The 3PL and Supply Chain Summit in Atlanta, June 5 – 7 was jam-packed with stimulating sessions from leaders in logistics. The pace of the event itself reflected the unrelenting acceleration of the speed of the logistics industry.
The stage has been set for all retailers, logistics providers and businesses in general: Consumers demand unlimited choices, intense personalization, incredible speed and absolute precision. Expectations continue to rise, pressing logistics operations to their limits.
To run an operation capable of delivering in this environment, logistics teams are vetting technologies, restructuring operations and reassessing best practices to achieve the next level of logistics.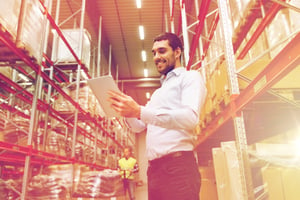 The complexity deepens when you consider the multiple customers that many of these companies serve. Land O'Lakes' Chief Supply Chain Officer, Yone Dewberry, expertly described the complexity associated with fielding both B2B and B2C customers. In order to prepare for their B2C customers, who are ordering product online from 5 PM – 9 PM, tracking product, reviewing status and receiving orders at home, their B2B customers, retailers, are seeking information from 9 AM – 5 PM. This kind of complexity demands round-the-clock, non-stop provision of insight, customer service, and support. The clock never stops, and neither do the demands, so neither can operations. But this isn't just true for Land O'Lakes – it applies, really, to all successful logistics providers.
The logistics technologies required to deliver these ongoing operations vary. They depend on the particular type of business, the relative strengths and weaknesses of these businesses, the particular needs and conditions, the type of product and many other considerations. However, some requirements are true across the board. Here are four things that logistics should look to accomplish with the technologies they implement:
Standardization – Standardization means getting your technology organized: Know what you have, where it is, and what it's running on. Standardization also means having best practices, integrated systems, and technologies that seamlessly work together. IT assets should not be approached as a one-time, singular purchase, but as a part of a harmonized network of technologies. Furthermore, these technologies should be managed throughout their lifecycle from cradle to grave for best results. Without standardization, chaos can preempt successful investment in critical cutting-edge technologies.
Intelligence – Given the speed of business today, predictive analytics will be essential to maximizing the speed of operations. Consider some of the applications: using analytics to map the fastest delivery routes, to predict changes in resources prices, to evaluate customer usage patterns and prepare for peak times. Companies must build the business case for how they can use data to speed and streamline operations.
Visibility– Supply chain visibility is frequently discussed, but apparently not easily accomplished. According to a report from GEODIS, full visibility of the supply chain is a top three priority for companies, but only 6 percent of companies have achieved it. Visibility requires item-level tracking across the supply chain and real-time updated reporting, as items are touched hundreds of times from order to delivery.
Speed – Speed is essential. Many retailers are shifting from 2 or 3-day to next-day or same-day delivery, pressing the limits of transacting hundreds of steps between order placement through pick, pack and ship. Speed means identifying bottlenecks in the operation and addressing them, often with the use of technology. As an example, robotics may help speed pick processes.
In short, high levels of technology are behind successful logistics operations. However, operators should keep in mind the critical success factors when vetting logistics technologies for implementation. Only then is it possible to realize the value of technologies that enable business at the speed of tomorrow.