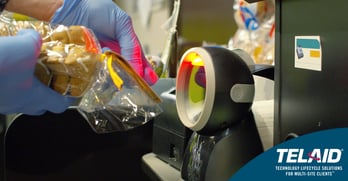 The risks and losses retailers face have changed significantly since just 2020. But then again, what hasn't changed over the past two and a half years? I enjoyed sitting down with Beth Bergmann, host of the Telaid Tech Connect podcast, to discuss how disruptive technologies are impacting risk and the changing the role of loss prevention and asset protection (LP/AP) teams.
The COVID-19 pandemic imposed a serious stress test on retail. In this brief two-year period, retailers endured some major trials, which challenged them in countless ways. Consider some examples of seismic shifts that have taken place in retail since 2020: the massive proliferation of self-checkout, the sudden and dramatic shift to curbside/delivery, and rapid adoption of AI and computer vision as a part of automation efforts.
In most of these cases, LP/AP teams had little opportunity to prepare for sweeping changes in operations introduced by disruptive technologies. Suddenly, LP/AP transitioned from the guys and gals who used to chase down shoplifters, to the team dedicated to mitigating unforeseen risks associated with retailing in a new age.
Disruption in the retail industry and the technologies they use have positively changed the face of LP/AP, just as they've changed the face of retail operations. Here are some important ways LP/AP continues to evolve:
Tackling more sources of loss – Loss is a lot more than shoplifting. The proliferation of self-checkout kiosks introduced new kinds of risk from intentional mis-scanning to reduce total price, to unintentional loss due to system misuse/misunderstanding by the consumer. Likewise, labor shortages have resulted in process and administrative losses, and societal changes have brought increased violence to stores. LP/AP teams are tackling issues of broader scope and greater severity than ever.
Adopting advanced technologies – Both AI and RFID are examples of technologies that are going to be pivotal to successful risk mitigation in retail. AI in the form of computer vision is being used to mitigate active shooter situations by detecting weapons before they come in the facility. It's also preventing slip-and-falls by monitoring stores for dangerous customer traffic conditions. RFID is essential for accurate item-level inventory tracking, which is a competitive imperative in today's omnichannel world. While technologies are introducing new risks in retail, they are also empowering LP/AP teams to combat new challenges.
Addressing larger business problems – LP/AP teams are earning a seat at the table when it comes to major retail decisions and investments. They are contributing innovative problem-solving approaches to address larger business problems. For example, rather than thinking about a merchandising solution that locks up the product, they are offering a merchandising solution that enhances visibility of the item and increases merchandising effectiveness, while still affording a reasonable deterrent to theft. LP/AP teams that come to the table with these kinds of solutions are being invited to the table and also earning allocation of finite budget dollars.
Uncharted territory lies ahead for LP/AP teams, but with their skills in problem-solving and the help of advanced technologies, they are quickly rising to the challenge. Cheers to a bright future in retail!