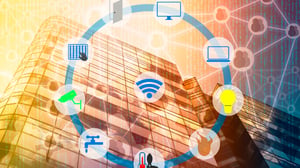 The BICSI Winter Conference in Orlando reflected on power and cabling changes that are taking place to support emerging power demands in spaces of all kinds. Consider the connected buildings of today. Complete with IoT devices designed to monitor everything from temperature to open doors, from moisture to lighting, the demand for power in buildings is growing alongside demands for efficiency and cost effectiveness.
Buildings of the future point to the use of low voltage infrastructure in lieu of traditional electrical wiring. With a great deal of power lost in the transition from DC to AC power at the switch box, inefficiency is a big problem. Cisco has created a switch that is powered directly through DC power and uses PoE directly at the end points, yielding a far more efficient use of power. Using this technology, devices within the building are powered using PoE.
And this new PoE is not limited to powering your access points, but is now powerful enough to run ceiling fans, lights, A/V equipment, laptops, digital signage and virtually any device. Previously limited to a maximum run of 100 meters, PoE Ethernet Extenders extend the length over which power may be transmitted to up to 4,000 feet in some cases, making it essential to retail, hospitality, campuses and other large facilities.
The technology to power buildings with low voltage is not coming; it's here. This is great news for retailers, in particular, and other industries that occupy large format buildings. Consider the benefits:
Flexible – In retail where large buildings are constantly constructed, retrofitted, renovated and updated, PoE offers a compelling value proposition of being easy to move and modify to meet changing configurations. Previously, store formats may have been limited by infrastructure and/or required an investments of large sums to change.
Supports power and data- PoE simultaneously enables power delivery to and data collection from IoT devices, collecting critical data from across the building. This data is used to improve efficiency, prevent hazards and reduce costs.
Efficiency/cost effectiveness- In an age of demands for environmental responsibility, the improved energy efficiency is both a cost savings as well as a step toward better environmental stewardship.Can accommodate changing configurations, can be easily moved/reconnected to provide a level of flexibility within buildings never before possible.
As we being to experience the power of low voltage in large buildings, retailers are sure to realize these benefits and others. It's important to work with qualified technicians who are highly skilled in cabling and infrastructure to ensure successful outcomes when making the transition to low voltage. To learn more about Telaid's BISCI Accredited training center, please visit https://www.telaid.com/why-telaid/bicsi-training/.