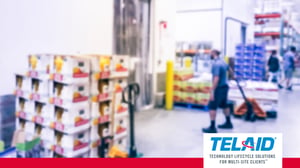 Food contamination outbreaks top the news weekly, causing tremendous brand damage, shifting consumer buying patterns, and even putting lives at risk. Whether the result of an unintentional contamination, an intentional biochemical attack, or simply a quality-compromising event, grocers, quick-serve restaurants, fast casual establishments and all other food retailers are at risk when it comes to food safety.
Distribution centers are just one stop for food items as they make the long journey from farm to fork. Vulnerabilities abound in temperature-controlled distribution centers in the cold chain. Maintaining perishable items at precision temperatures is critical. The loss of even a few degrees can compromise the quality - if not safety - of food. In addition, food may be subject to intentional contamination if left accessible. Factors other than temperature can also impact food quality. For example, in many cases, product is moved in less-than-truckload quantities. "Mixed loads," as they are called, pack trucks with different kinds of items which need to be kept at different temperatures as well as stored for secure transportation without damaging them. For all of these reasons, cold storage distribution centers are under great pressure to leverage technology and processes to ensure food is properly handled and stored at all times.
Fortunately, with cutting-edge technologies, cold storage distribution centers can significantly curb the risk of both intentional and accidental food safety incidents.
IoT temperature monitors provide automatic, real-time notification if temperatures fall above or below a given threshold. This instant notification allows managers to address the issue and/or relocate the perishable goods to another temperature-controlled area to eliminate risk of contamination and also ensure product integrity.
Integrated access control ensures that the distribution center maintains strict control of employees' access to merchandise. By limiting access, there is a reduced risk of intentional food contamination, mishandling or other problems.
Artificial intelligence (AI) in temperature controlled distribution centers will enable precision item tracking, calculating how much time a box of food spent outside of temperature controlled areas, how long it has been stored and where, and whether there was a delay in transit. This level of detail and consolidated information from a single source will provide managers with insight into the condition of the food items upon arrival to and departure from the distribution center.
Thermal imaging is a new technology that uses specialized cameras to provide automated, non-contact temperature monitoring. This automated process reduces error, lag time, and human interaction required for temperature monitoring conducted by people.
A combination of these technologies can transform temperature controlled distribution centers into more effective, secure warehousing areas for food and other perishable items. If you have not considered the potential for these tools to mitigate risk, reduce incidents, and protect and preserve merchandise, the time is now. Telaid can help you envision and integrate these technologies rapidly for better business outcomes.