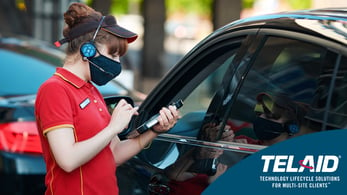 Quick service restaurants (QSRs) are under pressure to either deliver quickly or lose their customer base. While customers may theoretically understand the difficulties associated with restructuring operations to deliver nearly exclusively via curbside and drive-thru, the grace period of patience and understanding is coming to an end. Diners' expectations have returned: they want their orders delivered quickly, accurately and consistently.
In Blue Dot's The State of What Feeds Us, the numbers speak for themselves:
9 out of 10 survey respondents have visited a drive-thru in the last month
67% said the #1 reason they come back is order accuracy
61% said the #2 reason they come back is speed and wait times
QSRs must make changes to compete in an oversaturated market.
The good news is Telaid can help! We partnered with one leading foodservice provider to design and deploy what we call "line-busting capabilities" to streamline the operational process behind the drive-thru. While the establishment had a drive-thru prior to the pandemic, the majority of customers entered the building.
In 2020, drive-thru traffic surged, making for long lines, frustrated customers and frazzled employees. We analyzed the existing technology and process and identified gaps. We upgraded the existing Wi-Fi infrastructure to include exterior access points, enabling employees to work the line outside, taking orders and payments to free employees at the drive-thru window to focus exclusively on order fulfillment and delivery. Headsets and handheld tablets enabled remote order-taking and internal communication among employees to manage the queue in a more efficient way. The use of mobile tablets also increased order accuracy. We installed IP cameras, which serve a variety of security and operational purposes, including protecting employees, providing visibility into queues, and informing the best ways to leverage limited staff.
The other key to success was the design of the complete system with an eye on both customer experience and back-end operations. We mapped out how these technologies would be used, by whom and where. We piloted the solution in stores nationwide and adjusted the plans as needed.
Today, this retail foodservice company is used as a model for best practices in drive-thru operations. We are proud to have been a part of that. Are you ready to execute line-busting strategies? Contact us!