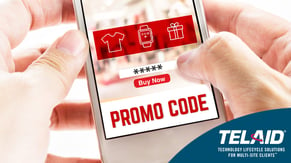 In preparation for the upcoming holiday shopping season, NRF led a podcast with retail experts from Price Waterhouse Coopers, exploring how retailers can best prepare in light of the completely unpredictable environment of 2020.
This past year has brought truly unprecedented changes to retail and life as we know it.
It has created completely unexpected demand for products like personal protective equipment such as masks, gloves and gowns, both in the commercial as well as consumer sectors.

It has overturned traditional shopping patterns, driving more online purchases, delivery services and curbside pick-up.
Consumers have suddenly and dramatically changed spending habits as unemployment surges and uncertainty wreaks havoc on the economy, driving more consumers to stock up on essentials and abandon discretionary purchases.
These massive and sudden shifts have upended retail, forcing many store closures, creating unexpected success stories and leaving many retailers unsure about the future.
This podcast explores the formidable challenges that retailers face this holiday season and best bets for preparing for a successful holiday season in 2020. It is required listening for retailers who find themselves struggling to make effective decisions in an uncertain world.
Inspired by the suggestions made in the podcast as well as our own experiences with clients over the past 6 months, here are 4 tips to help you prepare for the upcoming holiday season:
Use your data – The world changed in March and we now have more than 6 months of data available to reveal critical customer insights. Instead of focusing on what you don't know, use the data to uncover things you do know. How are customers shopping? What are they buying? Where have you had problems meeting the changes in shopping patterns and demand? Use this critical information as a place to start when preparing for the holidays.

Shore up omnichannel – One thing is for certain: the pandemic has accelerated the shift to true omnichannel retail. Shore up your capabilities for online ordering, flexible delivery options and creative returns processing.



Prioritize critical deployments – Technologies are available to help you streamline operations, enable new capabilities, improve the customer experience and even provide greater visibility. Make a list and prioritize the deployment of critical technologies prior to the holidays.

Reassess your infrastructure – With so many changes taking place and new technologies being deployed, don't make the mistake of failing to assess your infrastructure's ability to handle these new technologies. Upgrade your infrastructure as needed to ensure uptime and optimized performance.
While you can't predict what the remainder of 2020 will bring, you can prepare yourself to make the most of an uncertain holiday season and lay the foundation for a strong 2021.