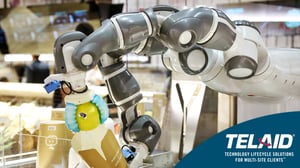 It's spooky how quickly things are changing in retail. One new trend is the proliferation of "dark stores," particularly in the grocery segment, but also in big box and specialty retail. Dark stores are not the latest Halloween promotion, but rather a quickly growing number of brick-and-mortar stores converted into small warehouses where orders are processed for delivery or pick-up. These micro-fulfillment centers enable rapid fulfillment of individual orders, typically in more central locations for quicker accessibility and reduced delivery times. These newly configured retail spaces are often closed to the public and quickly reconfigured to enable processing of thousands of online orders, which are on the rise since the beginning of the pandemic.

The emergence of dark stores is accelerating demand for innovative technologies that enable faster order processing, improved accuracy and reduced resources. Here are some of the technologies that allow dark stores to help retailers deliver value in the sometimes frightening climate of 2020.

Automated fulfillment – Because the store format is much smaller than that of a traditional fulfillment center, reconfiguration is needed to streamline operations. Some stores are shrinking space between aisles and shifting from employee order packers to robots, drones and conveyor belts. Automated pickers can fit in tighter spaces, allowing the retailer to optimize every inch of the store, and also reduce errors.
IoT temperature controls – In an attempt to keep foods fresh and safely stored, grocers are deploying IoT temperature monitors on temperature-controlled storage units. If temperatures fall outside of an acceptable range, someone is notified immediately and can address the problem or relocate perishable items to save thousands or tens of thousands of dollars in loss due to improper storage.
Outdoor parcel robots – Outdoor parcel robots provide shoppers an alternative to curbside pick-up or delivery. Once the customer places their order online, orders are picked, packed and loaded into an outdoor parcel robot, located in parking lots, street corners and other locations around the city. Food is kept in temperature controlled containers until the customer arrives to collect their order. This keeps orders moving out of the dark store and delivers convenience to the customer.
AI – In light of the small format of these locations, it will be critically important that retailers manage inventory with precision. Fresh foods must be delivered in sufficient supply to meet demand, while avoiding overstocks of perishables, which will have to be thrown away if unused. AI and predictive analytics will help retailers forecast with accuracy so that dark stores are equipped with just the inventory they need, precisely when they need it.
As you consider converting stores with lower foot traffic into dark stores, Telaid can support you with managed services and retail automation technologies to optimize your space for efficient operations. That could make the process of incorporating dark stores a little less scary.