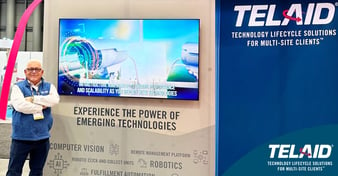 I just returned from the 2023 NRF Big Show, which was back to pre-pandemic attendance and engagement. The show floor was buzzing with excitement and discussions about everything from AI deployments to new store openings, remodels, self-checkout and loss prevention. I was excited to be a part of this event, which sets the stage for retailers to realize their aspirational goals over the coming year.
Retailers are putting lots of energy into envisioning how emerging technologies like automation, AI and computer vision can be used to revolutionize their businesses. This is an exciting new world, where technologies are removing barriers like labor shortages and wait times to deliver a better shopping experience. Yet all too often we see arrival at the final, envisioned destination is either delayed or diverted for retailers.
The truth is, while infrastructure, cabling and CAD engineering may not be the exciting part of visionary planning, it's more critical than ever to the success of technology projects. Too often, in their haste to deploy transformational technologies, retailers forget the underlying infrastructure, the foundation without which there can be no success. Another challenge is that emerging technologies often require vastly different infrastructure than legacy technologies. In some cases, retailers simply are not aware of the upgrades required to support the level of performance and scalability they expect from innovative technologies.
Telaid has established its 40-plus year reputation on getting the fundamentals of technology right. With great attention to detail, an outstanding project management organization, and engineers and technicians skilled in cabling and Wi-Fi infrastructure design, we have been focused on ensuring infrastructure supports the simplest all the way to the most complex technologies.
We also have a reputation for creative problem-solving. That means not approaching problems like "how do we successfully install xyz technology?" It means starting with the business challenge at hand and engineering a solution with the innovative use of technology. There's a big difference between these two approaches.
Over the years, Telaid has helped hundreds of customers, rescued dozens of at-risk projects from certain doom, and has been brought in to upgrade infrastructure. We've seen and learned so much that others can benefit from. I had several conversations at the NRF show with retailers who realize they need a dependable and savvy team of technology experts to guide them through this never-before pioneered territory. That's why throughout 2023 I plan to share insights, best practices and tough challenges.
Next week, I'll kick off by discussing the challenges of workforce device management in the era of hybrid workplaces. I hope you'll embark on a journey of insight and healthy debate in 2023.