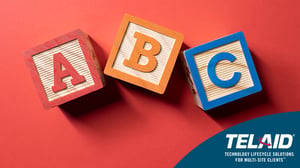 Back-to-school spending is forecast to surge above 2019 spend amid the COVID-19 outbreak. Surrounded by plenty of uncertainty, parents are unsure if they are to prepare for in-school classes or remote learning at home and feel the need to be prepared either way.
NRF has released their annual Back-to-School Survey and based on some key trends and statistics, here are our recommendations for the ABCs of successful back-to-school retailing this year.
Advance omnichannel everything – More than half (55%) of K-12 shoppers say they will buy online. This is consistent with recent data showing consumer preferences for online shopping as opposed to in-store visits during the pandemic. Retailers must be prepared with a range of omnichannel options to meet consumers' needs. From BOPIS, to curbside or delivery, online purchases with free shipping, the demand is growing for flexibility in omnichannel shopping.
Be prepared for flawless back-end logistics – Along with growing online purchases, consumers demand the flexibility to conveniently transact returns and exchanges. With many dressing rooms limited or closed, consumers are purchasing multiple sizes of clothes with the intention to return sizes that don't fit. To accommodate these returns, retailers must have systems in place to process returns easily.
COVID-19 safety first – According to the NRF survey, the vast majority (88%) of consumers say Coronavirus will affect their back-to-school shopping in some way. A recent survey from First Insight indicated that less than 50% of consumers felt safe shopping in big box stores, department stores, malls and warehouse clubs. According to one survey, consumers plan to avoid stores due to the risk of COVID-19 exposure. For those that do visit brick-and-mortar stores, it's essential that retailers put in place measures to maximize consumer and employee safety. This means implementing social distancing, enforcing mask ordinances, and sanitizing frequently touched surfaces are all important steps.
With these basic measures in place, retailers can help ensure a successful back-to-school season. For more information on technologies that can help you achieve these critical objectives, visit Telaid's COVID-19 solutions page.