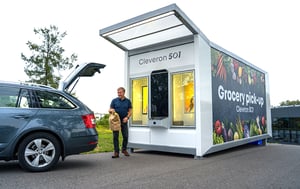 Retailers are searching for new ways to deliver convenience, speed and efficiency to their customers as they retrieve orders placed online. More and more retailers are deploying lockers and robotic click-and-collect units to offer customers yet another way to retrieve their orders in a convenient and contactless way.
The business case for deploying these click-and-collect units varies, depending on the retailer and their overall objectives for operations and customer service. Here are some of the most common drivers we see.
Expanded store footprint

– The installation of click-and-collect units off premises allows retailers to reach new geographic markets and even new demographics. Because the process of purchasing real estate, building out stores and staffing them is long and expensive, some retailers are turning to click-and-collect units to expand their footprint without that major investment. Installation of units near college campuses or in new neighborhoods allows retailers to reach new customers and areas without building new stores.


Improved customer experience

– Since the onset of the pandemic, consumers are demanding convenient, contactless service. Click-and-collect units offer just one more convenient, contactless, 24x7 order retrieval option to shoppers.


Labor savings

– With labor costs at a premium and a shortage of workers, retailers may not have the staff to outfit a full curbside delivery operation. A Cleveron robotic locker with 124 totes can be filled in 46 minutes. Filled between two and six times a day, this represents an enormous time and labor savings over staffing curbside delivery all day.
Retailers can realize significant benefits with the use of robotic click-and-collect units. However, it's important to think through logistics carefully in order to avoid delays, difficulties and a poor customer experience. Here are some of the most common challenges we see and how to overcome them.
Challenge #1 – Picking the wrong location – Location selection should include considerations such as power source, lighting, parking and ease of access. Sometimes locations are unsuccessful because consumers do not feel safe when retrieving their orders. If parking lots are remote and unlit, it can deter use. Careful consideration should also be given to accessibility of a location to employees who will be visiting the spot several times a day to load orders.
Challenge #2 – Slot abuse – Small orders taking up a large number of a limited amount of totes can reduce efficiency and cut into profitability. A common option for reducing slot abuse is establishing order minimums to qualify for locker retrieval.
Challenge #3 – Usability challenges – Consumers, particularly first-time users of retrieval lockers, require simple, easy-to-use instructions and interfaces to maintain an excellent customer experience. In some cases, usability challenges are associated with difficulty in locating the locker. This can be overcome with the provision of signage on site and clear instructions delivered with order confirmation.
Usability challenges can persist with the actual touchscreen interface. Videos of first-time users have shown that they don't understand where or how to scan their barcode to retrieve their order. This can be overcome with a simple outline of instructions and/or a short how-to video on the kiosk interface.
Challenge #4 – Failure to have contingency plans – Mistakes happen. Therefore, it's important to outline contingency plans. What if a customer inadvertently receives the wrong order tote? What if their order is missing an item? What if they order an oversized item that does not fit in the unit? Retailers are wise to outline contingency plans and provide clear paths for consumers to communicate difficulties.
Robotic click-and-collect units allow retailers to deliver a great customer experience as well as cost savings to the store. With a little advanced planning, retailers can ensure a successful deployment and optimal results. For more information, visit our website.