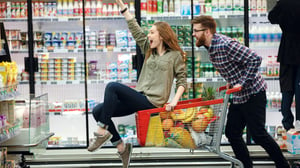 When you think of customer experience and highly personalized offers what most likely comes to mind is specialty retail. According to the 72nd Annual Consumer Expenditure Report from Progressive Grocer, grocery shopping is also highly personalized.
Driven by the need for non-medically prescribed special dietary foods, prepared foods and perishables, shoppers are visiting grocery stores 1.6 times each week. This is in addition to their regular weekly grocery stock-up. They are experimenting with online grocery shopping, delivery services and click-and-collect. Grocers have more of an opportunity to interact, understand, and deliver value and convenience to their customers.
The report digs deep into the performance of different segments. With extensive and detailed data, it's interesting to step back and evaluate some telling high-level trends that are based on the performance of different product categories.
Consumers call for variety – In a diverse world where virtually anything is available online, consumers' tastes are also changing. From global cuisine and special dietary foods to healthy yet desirable indulgent offerings, consumers demand variety. It's reported that consumers visit an average of 4.4 banners to meet their diverse grocery needs. By offering variety, grocery stores can increase revenue-per-shopper, earn loyalty and differentiate themselves. Savvy grocers should leverage AI and customer apps to understand their customers' preferences, their shopping habits, and make the most of their inventory and shelf space.
Speed it up! – It's clear that speed is top of mind for consumers. The very segments that are growing in grocery - prepared foods, ready-to-drink beverages, and meal kits - all point to an age where consumers are eating on the go, on the way, and on the road. Grocers' speed of delivery should naturally meet these demands. This means moving to mobile checkout or grab-and-go so that hurried consumers can get in and out. It may mean re-configuring the store for quick and easy access to grab-and-go items. Retailers should leverage retail technology to ensure that the in-store experience offers speed to meet the pace of shoppers' busy lives.
Convenience – All of retail is shifting to online ordering. Whether shoppers want to click-and-carry or order items for delivery, convenience is king to earning consumer dollars and loyalty. Grocers need to invest in precision omnichannel retail just like other segments. With an average of 1.6 in-store visits per week, grocers can add to shoppers' convenience by offering loyalty programs, coupons and other personalized offers via apps so that they can redeem discounts, learn about new products of interest and automatically earn rewards with each visit.
Grocery chains have an opportunity to increase sales of high-margin items and offer consumers an experience that keeps them coming back for more. Don't miss the opportunity to invest in this new age of personalized, highly engaging grocery shopping to maximize revenue and profitability.