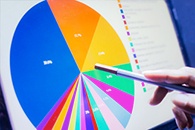 As we look to 2017, there are enormous changes afoot for the retail industry. From the implementation of RFID to the rise of the pick-up kiosk, retail is expected to evolve at a dizzying pace in the coming year. Here are 7 trends to watch out for in 2017.
1. RFID arrives
A long time in the making, RFID has finally made its way to the forefront of the retail technology agenda. While you may have thought the day would never come, finally the price of RFID tags has dropped to below ten cents per tag, making it a viable option. RFID systems are critical because they will truly revolutionize the way retailers do business. From conducting price checks to making price modifications, from checking inventory to restocking shelves, RFID will automate once manual processes. In 2017, we're going to hear more talk of retailers planning and implementing full-scale RFID projects.
2. The convergence of intelligence
Retail was once home to informational silos by department. Video was the domain of loss prevention/asset protection. The marketing team owned customer data. IT owned the network. Information was delivered on a department-by-department basis. But the systems today are no longer single-department deployments. Information is being demanded by and can now be used by all departments. There are fewer and fewer barriers and more and more data usage. Departments in retail will continue to share intelligence as well as system implementations from a cost and planning perspective.
3. The rise of the pick-up kiosk
The number of retail pick-up kiosks has exploded in 2016 and will continue to grow in 2017. This new trend finds consumers shopping online and then driving to a convenient pick-up location where they collect their order that has been picked and bagged, pay in the parking lot and drive away. This is a new way of shopping that has traditional brick-and-mortar retailers competing with Amazon for online shopping convenience with a local twist. This trend is one step closer to consumers moving away from physical in-store shopping and challenges traditional retailers to build efficiency and experience around this new hybrid model.
4. Expanded physical security
As increased violence unfortunately plagues our society, retailers will be forced to undertake more extensive physical security efforts. No longer will in-store security be sufficient to make customers feel protected. The premises will extend to the parking lot and shared public spaces in malls and commercial centers. Retail asset protection teams will be forced to get aggressive with defensive and proactive tactics to protect the brand, assets and customers.
5. Automation of big data reporting
Increasingly, all of the data made available through systems from video to POS, from RFID to access control will be consolidated, evaluated and analyzed through user-friendly data dashboards complete with proactive automated alerts for data that meets given criteria. Data analysts will move on from the job of data mining, consolidation and reporting. This will become a fully automated process. There will be a shift away from people and processes to tools and templates, increasing the accessibility and value of data.
6. Smart returns and refunds
To reduce the loss associated with this high-risk activity, algorithms will be used to determine which customers receive refunds without a receipt. Retail Equation, a so-called "retail transaction optimization solution," is revolutionizing the way returns/refunds occur with their database that compiles a history of consumer shopping behaviors. They take the age, address of the consumer, shopping history and use metadata to issue a probability that a return is legitimate or not. This use of artificial intelligence will determine in what cases retailers issue a return or refund without a receipt, allowing them to stem losses at the returns desk.
7. In-store cell phone tracking
From the moment you enter a store, the MAC addresses on customers' mobile devices can be tracked. When a customer walks into a store today, they may have 3 or more mobile devices on them: their key fob, cell phone and Fitbit, each putting out a unique signal. Retailers can capture that signal and match it with a particular customer to track valuable shopping patterns. Where did they linger? How long did they remain in the store? What did they buy? How much did they spend? Retailers use that information in aggregate to maximize the merchandising in their stores, as well as to serve individual promotions, coupons and product information to consumers. A little science-fiction-ish? Perhaps. But it's also part of offering a personalized, satisfying shopping experience to each and every consumer.
Every single one of these trends requires robust technology and the effective use and management of that technology. Make sure your systems are ready to support the newfangled use of technology. Contact Telaid.
Keith Aubele, Chief Security Officer at Telaid, was formerly Global Vice President of Asset Protection at The Home Depot and Director of Loss Prevention of Walmart.