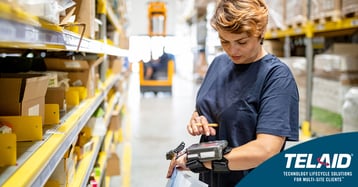 An October 2022 report from the U.S. Chamber of Commerce, Understanding America's Labor Shortage: The Most Impacted Industries, estimated that 70% of job openings in retail remain unfilled. Retailers, quick serve restaurants and convenience stores all grapple with dwindling labor resources while at the same time picking up more of the tasks that customers used to do themselves. Think about how customers used to move around the store, selecting needed items, standing in line to pay, collecting their orders and carrying them out to their cars. Increasingly, retailers are delivering that last mile with offerings like curbside delivery, shipping and BOPIS.
Meanwhile, labor shortages abound, putting retailers in a tight spot. Fortunately, automation technologies are binding some labor loss wounds and empowering existing employees with technologies that drive their efficiency. Consider some of the obvious and not-so-obvious ways automation delivers labor savings and positions retailers to make the most of each and every available employee.
Self-checkout technologies, ranging from self-scan kiosks to completely frictionless "shop-and-go" apps, enable streamlined checkout, reducing the need for cashiers and allowing employees to be reassigned to more strategic customer service tasks.
AI is being deployed at the self-checkout to identify mis-scanning incidents and deliver instructions on the screen showing customers how to properly scan or rescan items. This helps reduce shrink, while simultaneously reducing employee interventions.
IoT sensors deployed in refrigeration units and hot food storage containers ensure temperatures are properly maintained while eliminating the need for employees to travel the length of the store to manually collect data.
Robotic coolers automatically refill the stock of cold drinks and snacks in refrigeration units, ensuring availability for purchase and automating a labor-intensive task.
Age ID technologies verify age, eliminating the need for birthday key-ins and staff interruptions required to check driver licenses.
IoT used on trash compactors automatically alerts waste companies when the bin is full for faster pickup without human interaction.
Computer vision on prepared food counters automatically alerts kitchen staff when stocks are low and more of an item needs to be prepared.
And retailers have only begun to explore the realm of possibilities when it comes to automating repetitive, menial tasks. If you're considering taking the next steps in automation, Telaid can help. Learn more about our automation technologies and contact us to start a conversation.